Hate waiting for reports? Do not want to wait till the weekend meeting to know what went wrong and why it went wrong? Want to better motivate your teams and make them perform better? Want to stay in touch with everyone in the team even when you are away? Want to really measure and better? Then, eScoreCard is the solution that you need.

What is the use if information cannot be translated to action plan or information is not in real time? eScoreCard letís you gain access to production, performance, quality information in realtime. Team-wise, department-wise and organization-wide. You set the parameters of performance. You design the standards and define above standard / below standard levels. You set the scoring pattern and measure them. True, we all have done it...but in real time? Time to stop waiting for weekend information and start optimizing and bettering your production, quality and overall performance right away.

Whatís more? You can use eScoreCard as a bulletin board to paste private / group / organizational messages and allow your junior most worker also to respond to your comments. Motivate your team by using the ĎHall of Fameí feature - translated directly from the scorecard figures of individuals / teams / business units. Motivate your team, build the passion of healthy competition.

Itís all easier than you think. Let us know when you want to better your organizations performance. We are just a call or a click away.

Features
eScorecard is a web-based, multi-dimensional application that allows organizations to accurately measure performance, quality and obtain a real-time first hand report of factors that affect productivity.
eScorecard allows organizations to:
| | |
| --- | --- |
| | View snapshots of a team / business units performance across all parameters, quadrants and sectors simultaneously |
| | Customize analyses and reports (multi graphs, crosstab analysis, team / parameter-wise) |
| | Create internal whiteboards for private, group and public messaging |
| | Create internal 'Hall of Fame' gallery to recognize and reward desired performance |
| | Choose indicators and individual parameters team-wise / organization-wise to examine in greater detail |
| | Track performance over time |
| | View results using a variety of innovative graphics |
| | Download reports to other applications and save, print and reformat |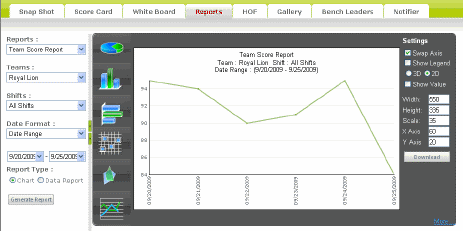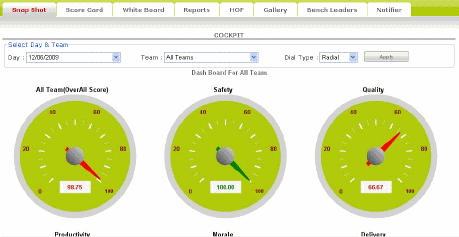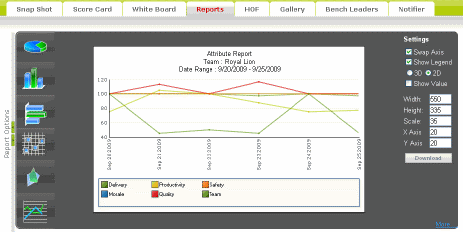 Also organizations can view their actual performance scores for each parameter, in comparison to average standard, below standard and above standard scores.
The e-Scorecard is a strategic tool that can help organizations with planning and priority setting as well as monitoring the achievement of objectives.