Features
1. Design Professional Online Surveys
With multiple question types and numerous sample surveys to choose from, creating a professional survey is so easy with AnalyseSurvey.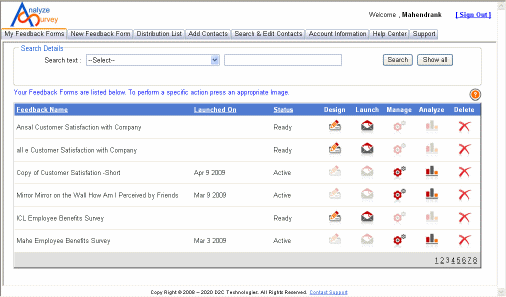 2. Choose Your Plan
Free and Corporate - choose the plan that exactly suits your needs. Click here to learn about plans
3. Add Power to Your Surveys
With Cross Tab, Inconsistency Validator, Ask-If, Required Field Validator, Answer Randomization, and Unlimited Surveys and Questions, you can add power to your surveys.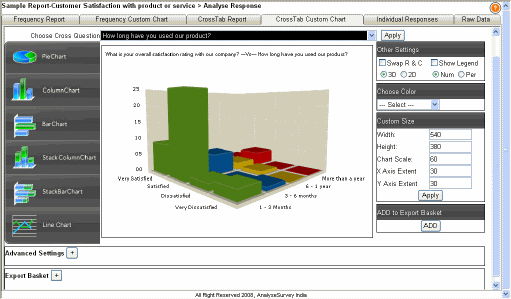 4. Customize Your Surveys
Make your surveys your very own - with customized Intro and Thank You Pages, Headers and Footers, and Total Branding Flexibility.

5. Enjoy Powerful Survey and Response Options
Email, Pop-up Surveys, Mass Mail, Live Surveys, Response Tracking -the list of options you have to survey and collect response are numerous.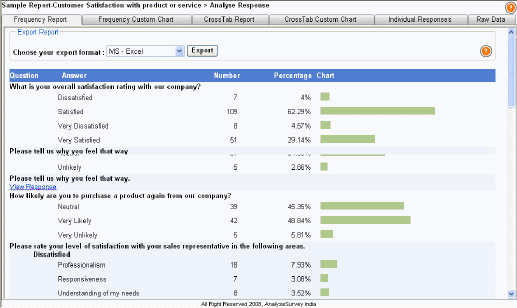 6. Benefit from Advanced Analysis
Get real-time reports, view summary results, view individual responses, apply filters, view 2D/3D Charts, export results and charts to multiple formats, and set up multi-user accounts.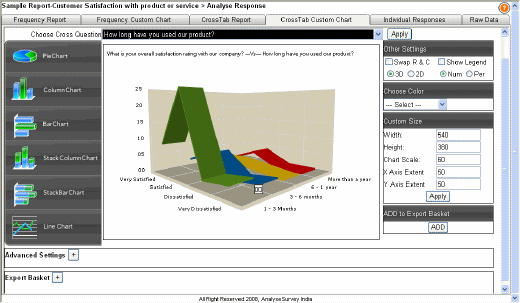 7. Be Assured-With Dedicated Support
Find contextual help online with comprehensive How To and FAQ sections. Get your needs addressed with dedicated support.
Be it a simple training feedback, a large employee engagement survey or complex market research, AnalyseSurvey is an advanced, affordable and easy-to-use solution that changes the way you gather your vital information.