You know when you need to assess your organization. But why go through the hassle of running after an evaluation / design agency, share your internal data with them, go through tedious negotiation process every time an assessment is done?

e360 lets you run your assessments as and when you need it. All you need is access to our software. You are all set to assess. You can define your requisite set competencies...or use our custom dictionary which we will gladly share with you and assist you to customize it from your organizations perspective. You can create the groups, define relationships, let people choose assessors or pick form a list prescribed. Create assessment questions, give them your custom rating, save and hit the send button to run the event. An individual mail is sent to all participants with the URL, login and password immediately and our programmed logic starts working in the background.

Want to know the status of assessments? Who took them? Who skipped them? Want to send them remainder mails? Want to close the event at a particular date? It's all available as simple graphic user interface in our system.

Did we forget to mention about the customizable reports? Our reports are all customizable. Your logo, your branding elements, your structure and your instruction about the extent and detailing of report. Of course, you also have an option of choosing from our sample templates.

Our reports have been designed to provide information in a very 'readable' format. Starting from graphs and score indicators to useful information embedded within as to how each element is read and interpreted. It all makes it an easy and effective job. If, in any case, you need assistance in helping your employees to interpret the report, convert it to action plan - our experienced mentors will be more than glad to assist.

One simple price plan per report irrespective of number of assessors, 24/7 technical and subject support, ease of design, deployment and deriving easily makes this the best product available in the 360 degree assessment software category.

Want to have a 360 degree assessment of our product? We are just a call or a click away. Or better, subscribe to a trial version now!
Subscribe to trial version of e360
Features
1. Easy to use
Easy to create your own assessment Questionnaire and score allocation for each competency value With multiple question types and numerous samples to choose from.
2. Track Participants
Invite employees to participate in the assessment process through emails and you can easily track their participation and remind them if they forget to participate
3. Powerful analysis
Generate detailed reports for individuals, teams and departments.
4. Advanced Analysis
Generate different custom charts for detailed view and also get advanced reports like strength finders, thought starters etc
5. Benefit from Advanced Analysis
Easy Download of Powerful reports and charts in various File format. Exciting Filter options to Filter your report & charts. Results are delivered in a report that highlights strengths, areas for improvement, and differences/similarities in views of behavior
6. Dedicated Support
Find contextual help online with comprehensive How To and FAQ sections. Get your needs addressed with dedicated support.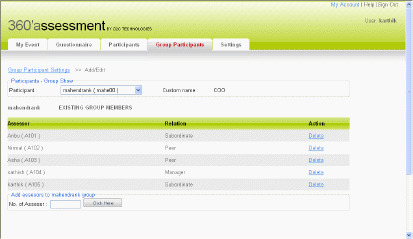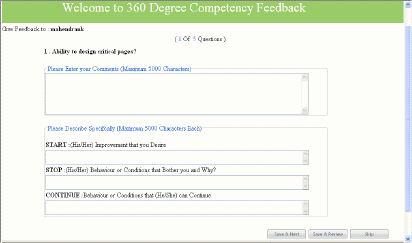 e360 feedback